Introduction to Lilly and Mimi Fabric Shop
Lilly and Mimi Fabric Shop is a renowned destination for sewing enthusiasts and crafters looking for high-quality fabrics. With a wide range of options to choose from, this fabric shop has become a go-to source for all your sewing and crafting needs.
At Lilly and Mimi Fabric Shop, I understand the importance of sourcing the best materials for your projects. That's why I take pride in offering a diverse selection of fabrics, ranging from cotton poplins and jersey fabrics to French terry and sweatshirt. Whether you're working on a delicate dress or a sturdy quilt, you can find the perfect fabric at our shop.
In addition to our extensive fabric selection, I also offer a range of accessories and tools to enhance your sewing experience. From thread and needles to patterns and trimmings, we have everything you need to bring your creative vision to life.


Placing an Order
Placing an order with Lilly and Mimi Fabric Shop is a simple and hassle-free process. Whether you are a seasoned sewer or just starting out, their user-friendly online ordering system makes it easy to find and purchase the fabrics you need. To begin, navigate to their website and browse through their extensive collection of high-quality fabrics.
Once you have found the perfect fabric for your project, simply click on the item to view more details. Lilly and Mimi Fabric Shop provides comprehensive product descriptions, including fabric composition, width, and care instructions, ensuring that you have all the information you need to make an informed decision.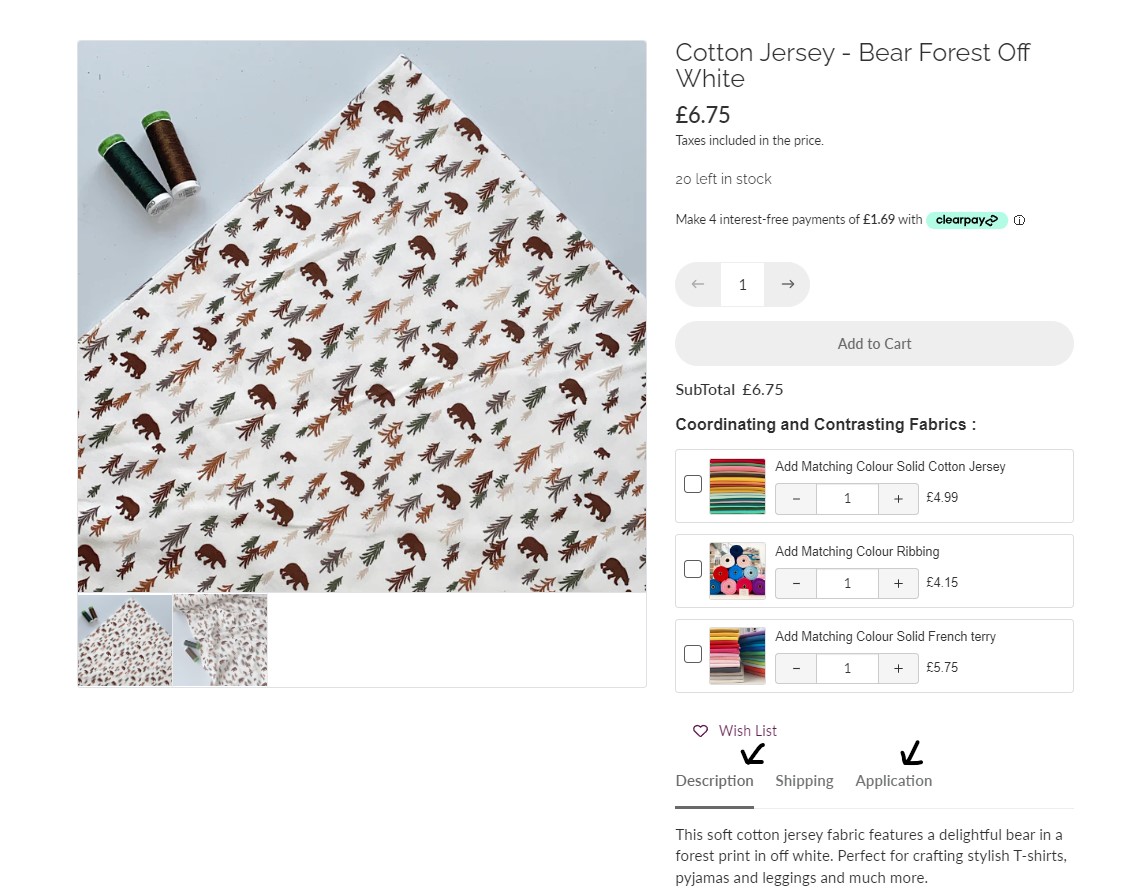 To add the fabric to your cart, select the desired quantity and click on the "Add to Cart" button. You can continue shopping and add more items to your cart or proceed directly to checkout. I offer Coordinating and Contrasting Fabrics next to the product picture. This means I most likely have coordinating or contrasting fabric to the fabric in stock. Just tick the fabric you would like to add and the quantity.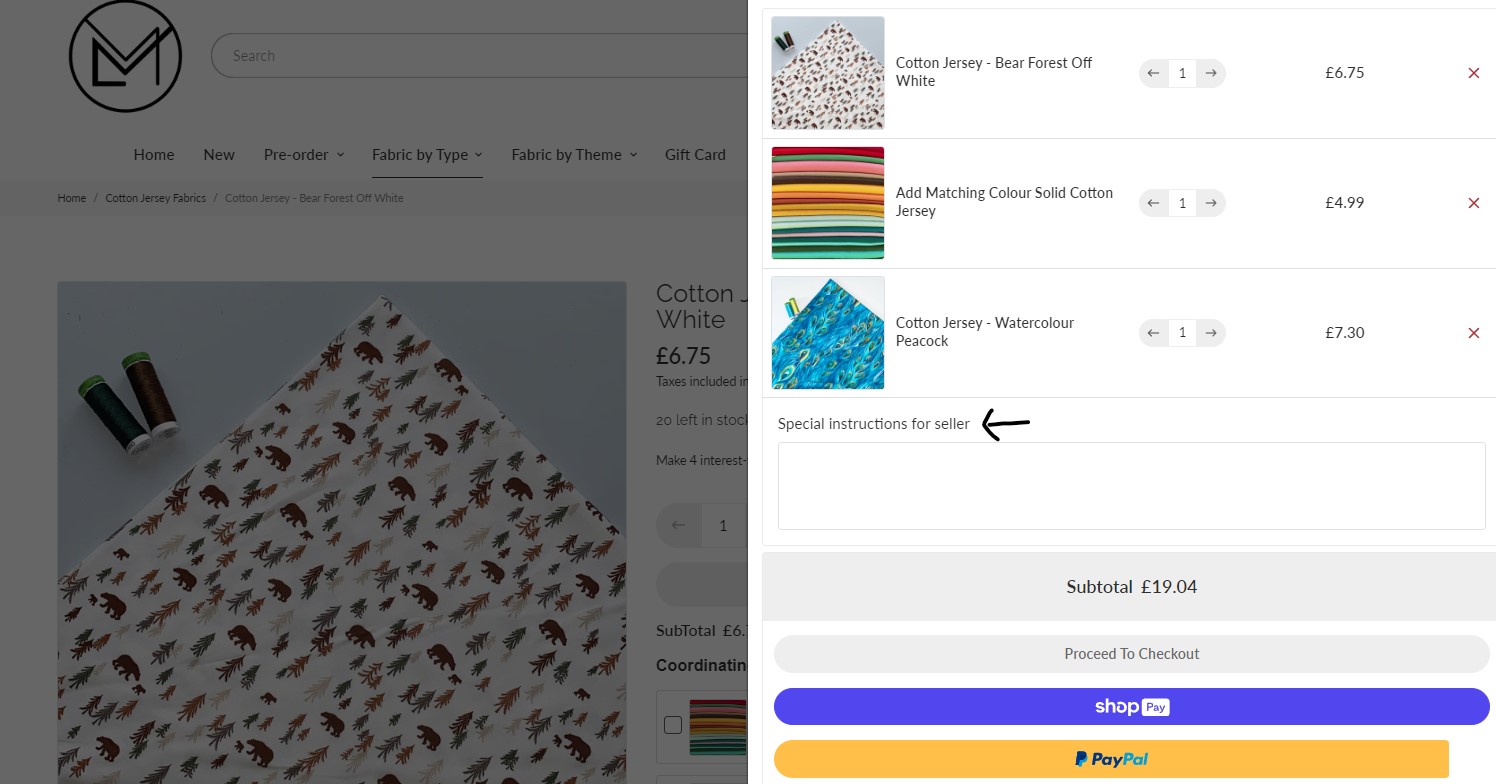 How it works?
If you would like a matching colour solid cotton jersey to your order, please leave a note, email or message us on any platform and I will find the best matching colour from our  plain colour cotton jersey. 
Please note: If I don't receive note or message I will add a colour from the stock which I think is best for the fabric. 

One of the advantages of ordering from Lilly and Mimi Fabric Shop is their quick processing time. Once your order has been placed before 12pm Tuesday - Friday will ship that same day. This is the processing time. I understand that time is of the essence when it comes to sewing projects, so I strive to dispatch orders as soon as possible.
In addition to efficient processing time, Lilly and Mimi Fabric Shop also offer various delivery options to suit your needs. Please make sure you choose the courier you wish to send the parcel with.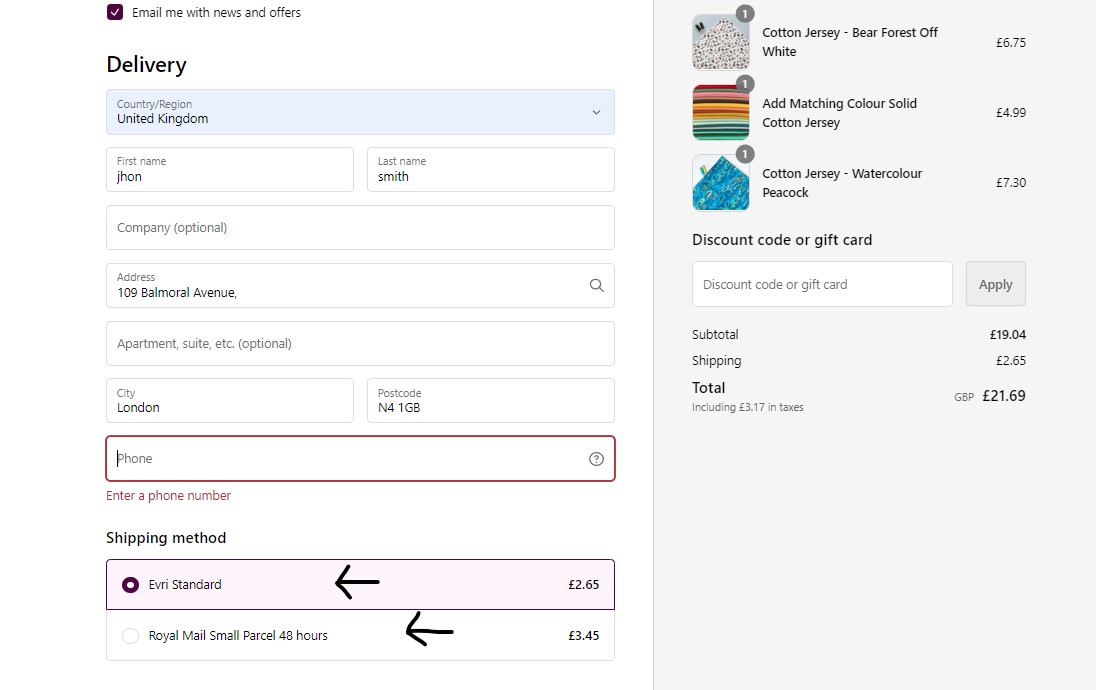 With Large deliveries I can send the parcel with Royal Mail or DPD within UK. I understand that fast delivery is important when it comes to completing your sewing projects on time. That's why I offer multiple delivery options to cater to your needs. Whether you need your fabric delivered within a few days or prefer standard shipping, I've got you covered. Our delivery timelines are clearly stated during the checkout process so that you can choose the option that works best for you.
Discounts and Promotions
At Lilly and Mimi Fabric Shop, I am committed to providing our customers with the best deals and discounts on our wide range of fabrics. I understand that sewing enthusiasts and crafters appreciate quality materials at affordable prices, which is why I offer various promotions throughout the year.
Our discounts and promotions are designed to help you save money while indulging in your passion for sewing. Whether you're a beginner or an experienced crafter, you'll find something that suits your needs and budget.
To benefit from these offers, simply keep an eye on our website or subscribe to our newsletter.
-If you are a new customer please sing up for our news letter and you will receive a 15% off discount code. This only can be used once. This give you an option to check how I deliver the fabric and you don't need to pay the full amount.

-I appreciate large orders and if your order £60 I offer Free Standard Delivery On All UK Orders Over. Code:FS23
-If you have ordered from Lilly and Mimi Fabric Shop then you know I always send a little gift with your orders no matters how small it is and you will find a discount code to your next purchase when you receive the parcel :)

-Wholesale discounts are available in my shop too. Where to find these?
I offer small bolt from the pre-orders. This is a great opportunity for small businesses too. These are already discounted with 10% and yes you still can use any of the promo code for more discounts. You can find bolt offer in stock here. Bolt offer Link.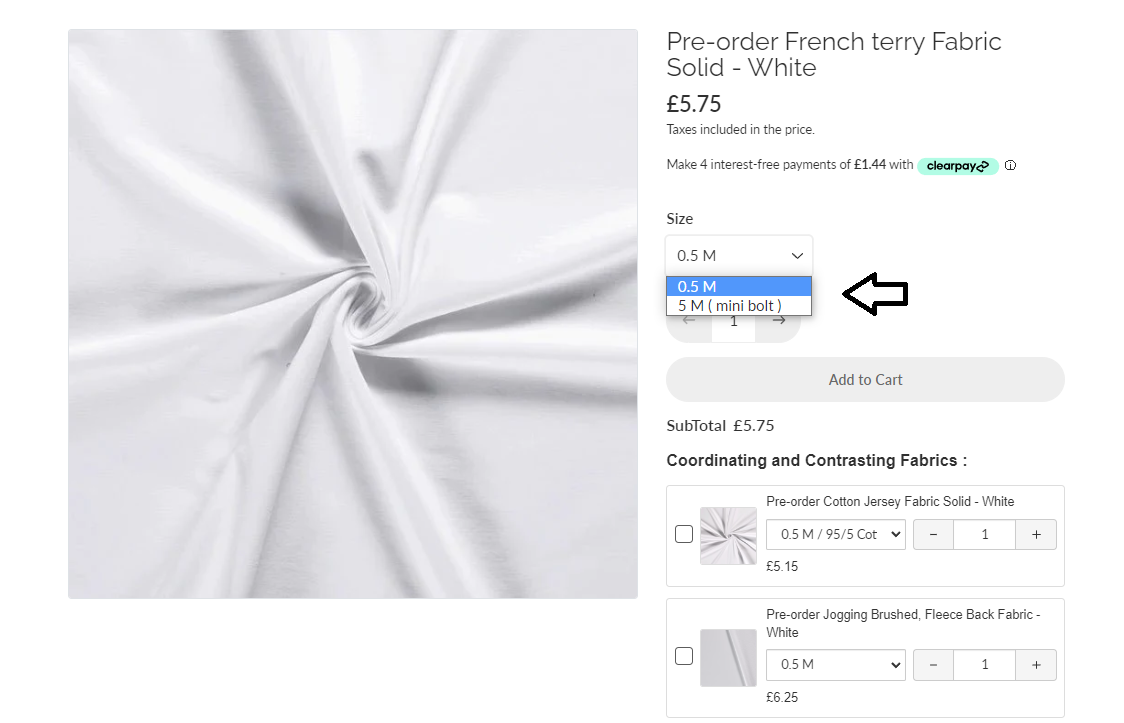 -I offer 20% off for products less than 6 units, such as 3 m of fabric or 6 thread/needle items due to my large variety of fabrics. Get ready to be amazed as this collection gets automatically refreshed by our system whenever the stock dips below 6 units. Low Stock products can be find here: LOW STOCK CODE:20off
I regularly update our promotions page with the latest deals, so you can stay informed about the best discounts available. By signing up for our newsletter, you'll also receive exclusive offers directly to your inbox. My customers have saved significant amounts of money by taking advantage of these promotions.
Delivery Options and Timelines
At Lilly and Mimi Fabric Shop, I understand the importance of fast and reliable delivery when it comes to fulfilling your fabric needs. That's why I offer a range of delivery options to ensure that you receive your order in a timely manner.
For our customers within the local area, I provide a convenient option for pickup. This allows you to collect your fabrics directly from me, saving you both time and money on shipping costs. As it is only online shop I can offer a refund once the fabric has been collected. Please contact me if you wish to collect your parcel.
If you prefer to have your fabrics delivered directly to your doorstep, I also offer standard shipping through our trusted courier partners. With this option, you can expect your order to arrive within 3-5 business days. I take great care in packaging and handling your fabrics to ensure they arrive in pristine condition.
For those who need their fabrics urgently, I understand the need for expedited shipping. That's why I offer express shipping options for faster delivery. Depending on your location, you can expect to receive your order within 1-2 business days. Please note that additional charges may apply for express shipping.
Rest assured that no matter which delivery option you choose, I prioritize prompt processing and dispatch of all orders. I strive to provide accurate estimated delivery timelines so that you can plan accordingly.
At Lilly and Mimi Fabric Shop, I believe in providing exceptional customer service from start to finish. Our commitment to fast and reliable delivery ensures that you can enjoy your new fabrics without any unnecessary delays. Choose the delivery option that suits your needs best and experience a seamless shopping experience with us!
I appreciate your support and purchase.

Noemi